Description
SUPAIR SORA EVO
SHARED PLEASURE
Supair's tandem glider gets a facelift!
The SORA EVO is comfortable, high-performance and robust enough to meet the expectations of demanding tandem pilots, not to mention the new designs that bring the wing up to date.
Now available in 3 sizes: 38, 42 and 44m², the SORA EVO adapts to all weight ranges for a Use in all conditions.
Weight: 7.8 kg for 42m².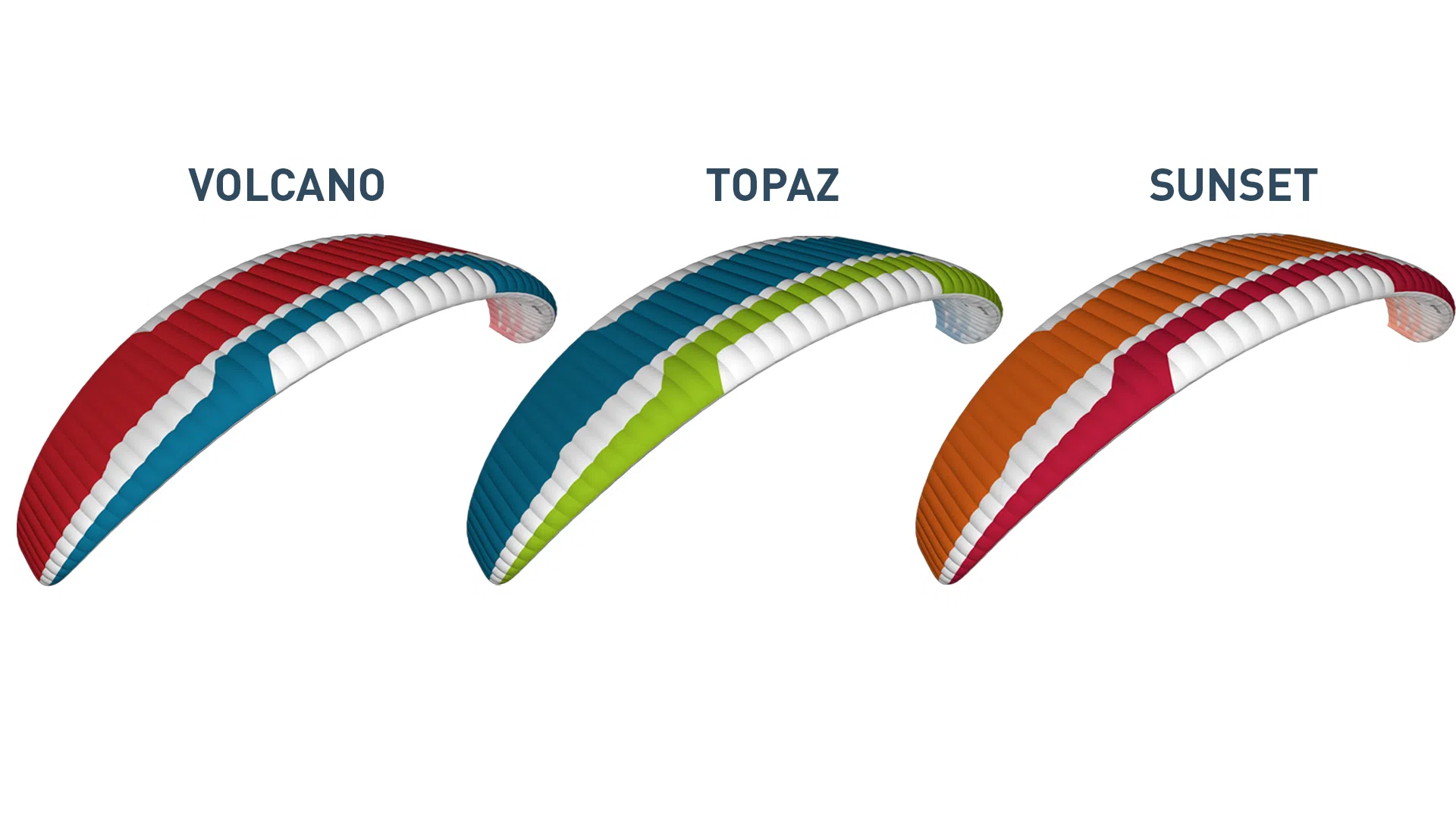 A sharp work tool for professionals and a fun toy for tandem enthusiasts flight , the SORA EVO is back in a new tandem version to delight everyone.
With its smooth, cushioned ride, it ensures passenger comfort while minimizing rider fatigue. Pitch and roll are particularly reduced, while handling remains fluid and precise thanks to excellent cornering comfort. The SORA EVO's level of performance gives its pilot a precise feel for maximum pleasure at flight, even when you're flying for work.
Whether your playground is grass, carpet, pebbles or sand, the SORA EVO is a solid two-seater built to last. It'll be with you for a long time, thanks to its durable construction and choice of robust materials.
On take-off, the wing climbs easily, even in light winds, while remaining progressive in steady conditions. The wing takes off quickly, to the delight of both pilot and passenger.
AtLanding, the SORA EVO offers a smooth landing thanks to its rounded shape. Your passenger will be delighted.
Now available in 44m² in addition to sizes 38 and 42m², this tandem wing adapts to all weight ranges, enabling you to fly in a wide range of conditions.
The SORA EVO also benefits from new Supair designs for a modern, up-to-date look.
Easy inflation, quick take-up, comfortable handling, cushioned steering and a new design, the SORA EVO offers all the features a tandem pilot could dream of.
FEATURES
EQUIPMENT:
Trims
Ear kit
Adjustable fein clips
Long-lasting rushes
Wingtip dumping system
MATERIALS:
Size 38m²:

Topside fabric: Porcher Sport Skytex 38 Universal
Bottom fabric: Orcher Sport Sktex 32 Universal
Ribs / roads fabric: Porcher Sport Skytex 40 Hard
Other fabrics Ribs / roads: Porcher Sport Skytex 32 Hard
High and intermediate superstars: Liros
lines basses: Edelrid
Sizes 42 and 44m²

Topside fabric: Dominico 30D
Bottom fabric: Dominico 20D
Ribs / roads fabric: Dominico 30D Hard
Other fabrics Ribs / roads MJ Tex 32 Hard
High and intermediate superstars: Liros
Lines basses: Edelrid
Glider SORA EVO
Inner bag for storage (inner bag)
User's manual
Repair kit
TECHNICAL DATA:
| | 38 | 42 | 44 |
| --- | --- | --- | --- |
| NUMBER OF ELEVATORS | 4 | 4 | 4 |
| NUMBER OF CELLS | 54 | 54 | 54 |
| FLAT AREA (M²) | 38 | 42 | 44 |
| WINGSPAN (M) | 14,3 | 14,9 | 15,3 |
| CHORD (M) | 3,31 | 3,46 | 3,56 |
| FLAT ASPECT RATIO | 5,35 | 5,35 | 5,35 |
| PROJECTED AREA (M²) | 31,9 | 34,8 | 36,89 |
| PROJECTED SPAN (M) | 11,1 | 11,6 | 11,92 |
| PROJECTED ASPECT RATIO | 3,85 | 3,85 | 3,85 |
| WEIGHT OF THE WING (KG) | 7,0 | 7,8 | 8,2 |
| WEIGHT RANGE (KG) | 110 – 190 | 120 – 220 | 120 – 230 |
| TRIMS | Yes | Yes | Yes |
| HOMOLOGATION | EN-B | EN-B | EN-B |
| ACRO | No | No | No |