Description
IDEAL TO PROGRESS…
The LEAF 3 is the logical continuation of a school wing like the EONA 3 or the BIRDY.
Thought for pilots who want to go further, it is an glider easy to drive and tolerant which allows a transition towards a more efficient practice of the of paraglider.
Its composition is designed for an Use intuitive thanks to a refined Line set and simple and simple and ergonomic so that you can concentrate on the essential: the flight.
Weight : 4.70 kg in size M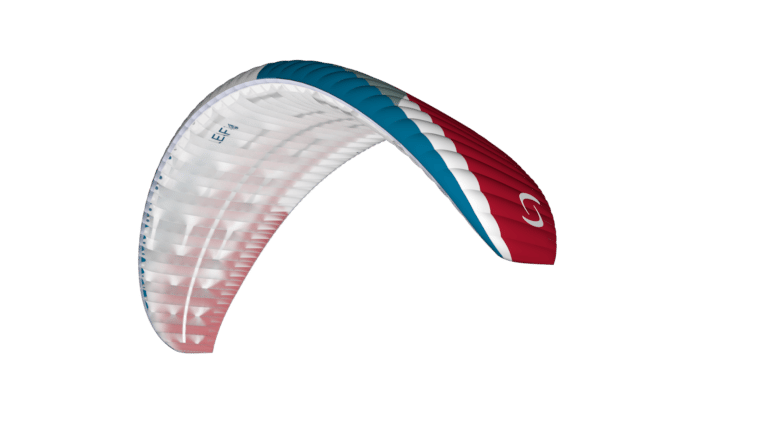 … WITHOUT GETTING BORED!
Despite its High level of accessibilitythe LEAF 3 is still a dynamic dynamic wing fun to play with.
Responsive to control and efficient in flight the LEAF 3 teaches you step by step to adopt a precise driving which will allow you to be always more serene under your wing in all conditions: flight on site, thermal, soaring, cross country…
A DAMPED WING FOR MAXIMUM COMFORT
The LEAF 3 has a redesigned arch for improved roll Stability on the roll axis.. This construction absorbs parasitic movements movements of the wing for a comfort even in turbulent conditions.
Indeed, the wing filters the air mass to give you the information you really need to fly precise and intuitive piloting.
WIDE CONTROL TRAVEL
Thanks to an internal structure of the wing designed to minimize the deformation of the Airfoilthe LEAF 3 benefits from a wide control travel.
This configuration allows the LEAF 3 to handle low speeds well, making its behavior tolerant and reassuring to give you give you the confidence necessary to progress in flight.
AN OPTIMIZED DESIGN
The materials selected for the LEAF 3 are robust and durable. The Line set is easy to untangle for an easyUse of the wing, especially during the preflight.
The LEAF 3 has a redesigned leading edge. The air intakes alternate between two types of openings along the leading edge to ensure optimal internal pressure regardless of the speed of flight.
The large air inlets keep the internal pressure internal pressure at low speeds, while the narrower while the narrower openings ensure optimum pressure pressure from Airfoil in accelerated flight .
EASY THERMAL CONTROL
The structure of the wing gives you a smoother smoother braking for precise control.. The turn is flatterwhich makes it easier to optimize theLift / thermic. The LEAF 3 is therefore an EN-B at the design ideal for the flight thermal and the cross.
FEATURES
Autonomous pilots
Progression
On-site flight
Cross Country
Airfoil Baby Sharknose
Ergonomic risers
Anti-friction rings
Smart Mini Ribs
Ears kit
Wingtip draining system
Ronstan low friction pulleys
Fabrics : 
Extrados :
Intrados:

Dominico 20D soft
MJ Tex 32 soft
MJ Tex 32 Hard

Internal structure and reinforcements:
lines :
High and intermediate:
Low:
Links :
Peguet – Quick link delta stainless steel 3.5 mm
EN Standard
LTF Standard
Class B
TECHNICAL DATA:
| | XS | S | M | ML | L |
| --- | --- | --- | --- | --- | --- |
| RANGE TOTAL FLYING WEIGHT (FLYING WEIGHT RANGE) (KG) | 50 – 70 | 65 – 85 | 80 – 105 | 90 – 115 | 105 – 130 |
| NUMBER OF CELLS | 49 | 49 | 49 | 49 | 49 |
| FLAT AREA (M²) | 20.50 | 24.00 | 26.70 | 29.00 | 31.00 |
| WINGSPAN (M) | 10.44 | 11.29 | 11.91 | 12.41 | 12.83 |
| CHORD (M) | 2.42 | 2.62 | 2.76 | 2.88 | 2.98 |
| FLAT ASPECT RATIO | 5.35 | 5.35 | 5.35 | 5.35 | 5.35 |
| PROJECTED AREA (M²) | 17.22 | 20.16 | 22.43 | 24.36 | 26.04 |
| PROJECTED SPAN (M) | 8.17 | 8.84 | 9.33 | 9.72 | 10.05 |
| PROJECTED ASPECT RATIO | 3.88 | 3.88 | 3.88 | 3.88 | 3.88 |
| WEIGHT OF THE WING (KG) | 4.10 | 4.40 | 4.70 | 5.00 | 5.40 |
| HOMOLOGATION | EN – LFT B | EN – LFT B | EN – LFT B | EN – LFT B | EN – LFT B |
| NUMBER OF ELEVATORS | 3+1 | 3+1 | 3+1 | 3+1 | 3+1 |
| ACRO | No | No | No | No | No |
| SPEED BAR | 130 mm | 142 mm | 142 mm | 150 mm | 150 mm |
| TRIM | No | No | No | No | No |
| OTHER SYSTEM OF ADJUSTMENT | No | No | No | No | No |